A 4-in-1 Solution
For Innovative Software Vendors
A Single Point of Control for License, Entitlement, Customer and End-user Administration
Get a single point of license control by using 10Duke's browser or API based license management platform, enabling you to control your customer licenses in real-time.
Manage via our API or our admin tools. Even let your customer manage their own licenses and users.
License Any Type of Software
Deploy the License Model You Prefer
No matter what types of licenses you sell, be it simply subscription, floating, perpetual, or consumption-based licenses, 10Duke has the most comprehensive license model support in the market.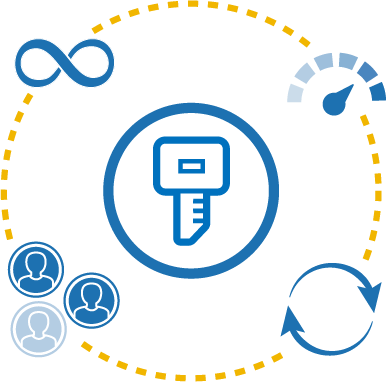 Support for Multiple User Types
Support Trial Users, Academic Users, Freemium Users and Paid Users, all with a single, easy-to-configure licensing engine.

Easy to Integrate
10Duke APIs come with a variety of client libraries to make integration with your client applications fast and flexible.
Works With the Systems You Use
Plug & Play integration with your CRM, E-commerce
and Payment Providers.
Connect to a test environment
Easy to integrate with support from our Integration Team if needed

Try it out!
Test our APIs to see if they work for you during the 30-day Evaluation Period
authentications per month
---
annual revenue secured for our customers
---
Customer Success
Learn how companies around the world are leveraging the power of 10Duke
Used by the Best Technology and Consumer Brands