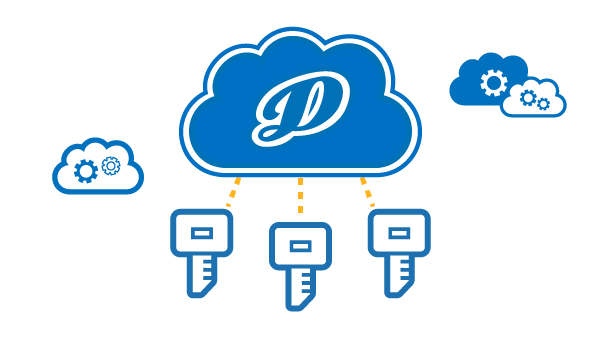 Cloud-based Software Licensing | The Modern Way
18th August 2022
5 Reasons Why Web Applications Need a Software Licensing Engine
10th May 2023
How Centralized Software License Management Will Increase Your Revenue
Executive Summary
How you manage the software and hardware licenses you issue to your customers can have a big impact on your business and its revenue. Licensing done correctly can make it easier for your customer to access, try and buy your licenses and boost your revenue growth.
Licensing done poorly can introduce significant friction to your business, leading to high internal support costs, frustrated customers and flat revenue. This business case brief outlines the key arguments in support of deploying a central, cloud-based license management system to support your license sales.
Scenario 1 – When It's Still Simple
If you take a simple scenario in which your business is selling only a couple of software applications to customers, it is normal to have the code that controls how those products are licenses built into those products. This might be done directly into the application code itself or you might have more than one product share the same licensing logic. You may then also want to connect those applications to other applications you use within your business, like CRM, ecommerce, etc.
Internally, you might have a few people assigned to develop and maintain your internal licensing engine. While they won't have time to focus on your core products, the resource cost is manageable, as is the cost of developing and maintaining both the internal licensing service as well as its integrations to 3rd party components. But it works ok and is manageable. This scenario is depicted in the diagram below:
Scenario 2 – When You Grow, Your Problems Grow With You
Now imagine a second scenario, in which your business is expanding. You may have made acquisitions to create a family of related products that complement each other and are relevant to your core customer base. Now you have multiple business units, each with their own products and integrations to manage.
Some of these products may be written with different technologies than others and you will now have multiple people internally managing each system separately, each with their own licensing engine and each with their own cost of maintenance and cost of development.
In this scenario, your ability to leverage the complimentary between and across products is limited. For example,
If you want to introduce a new license model like subscription, you can, but it would need to be done multiple times across each product. And for each product a different team would have to do it.
If you want to offer bundles of products, or add-ons, you can't really do this as the licensing logic for each product is separately held and managed.
You can't easily centralize your product offering or gain the synergy that is possible from a combined product suite and was, presumably, the reason for putting all the products under one umbrella.
You also have to maintain a whole range of integration points to each licensing engine for each business unit, which will be a significant and ongoing maintenance burden for your engineering team.
In addition to these challenges, you've now also likely to have a significant number of your skilled (and expensive) engineering team focused on wrangling all the challenges of licensing and license management, rather than putting their time and skills to work on your core product set. This more complex and friction filled scenario is depicted below:
Scenario 3 – Solving the Problems With Centralized Licensing
In order to cope with the complexity in license management brought on by combining multiple software and hardware products under one umbrella, and providing your business with the opportunity to generate additional revenue because of synergies between them, it makes sense to centralize license management. Doing so provides 4 main advantages to your business:
★ First, from a solution architecture perspective, it reduces the number of integration points between the components in the system - fewer moving parts means less management and maintenance costs.
★ Second, it allows your business to plan and define a product marketing strategy that can leverage complementarity between your products in order to best monetize your products and drive revenue growth. This can be consistent license models and pricing across product families, the ability to offer trials, discounts and product combinations.
★ Third, if the licensing service is purchased from a 3rd party vendor, it allows you to assign your engineering team to focus your engineering talent on internal products development and eliminate the opportunity cost of having them working on licensing, which typically requires specialized skill and experience.
★ Fourth, a central licensing service allows you the ability to design a set of business processes to ensure that your CRM, ecommerce and ERP systems are set up in such a way as to make your internal business operations function as smoothly as possible. In certain cases, it is possible to even 100% automate the license purchase, grant and renewal process so that each license sale adds directly to your bottom line with no increase in marginal cost.
This third scenario is depicted in the diagram below:
The Cost of Doing Nothing - In Numbers
What does this mean in numbers? There are three main factors that directly related to licenses, how you manage them and your revenue:
1. Revenue Leakage - this is defined as inefficiencies in your existing systems and processes leading to chargeable revenue that is not received. Revenue Leakage is estimated to affect ~15% of gross revenue for a vendor. (EY estimate, 2019)
2. Software Piracy (Revenue Theft) - this is defined as the unauthorized use of your software and hardware products, either intentionally or unintentionally, due to holes in your existing licensing systems. Unauthorized software use is estimated to affect ~37% of all software in use on PCs and ~20% of B2B software. (BSA: The Software Alliance, 2019)
3. Opportunity Cost - defined as net new revenue that could be gained via improved product marketing opportunities, leveraging of product synergies, and removal of friction from licensing processes. The Opportunity Cost of inefficient licensing is estimated to be ~15% (10Duke customer survey across 10 fastest growing ISVs, 2021)
If we apply these estimates to a company with $50M in gross licensing revenue, the cost of running a poor licensing system become apparent:
The business case for a state of the art licensing solution like 10Duke becomes clear when comparing the likely loss of $25 million annually (or 50% of revenues) versus the cost of 10Duke.
Conclusion
For fast-growing businesses, particularly those who are growing through acquisition, centralizing license management is critical in order to support your continued revenue growth. Maintaining a hodgepodge of license tools, spread across multiple products will require and significant invest of both time and engineering talent in order to maintain the 'status quo' while make it virtually impossible to be able to capitalize in any meaningful way on the potential synergies brought on by having a variety of related products all sold under the same umbrella into the same market and customer base.
License management is typically looked at simply as a cost of doing business. When done correctly, license management can be an engine of revenue growth, removing as much friction as possible from between your customer and a new license purchase.
Learn the Basics of 10Duke Software Licensing
Are you a software developer looking to sell more? Learn more from our guides:
You might also be interested in:
10th May 2023
Dedicated licensing engine provides significant value and helps overcome complexity. In this blog we explain the complexity and how to solve it.
License management is typically looked at simply as a cost of doing business. When done correctly, license management can be an engine of revenue growth, removing as much friction as possible from between your customer and a new license purchase.