Software Licensing System – The Build vs. Buy Conundrum
11th April 2022
How Centralized Software License Management Will Increase Your Revenue
7th October 2022
Cloud-based Software Licensing | The Modern Way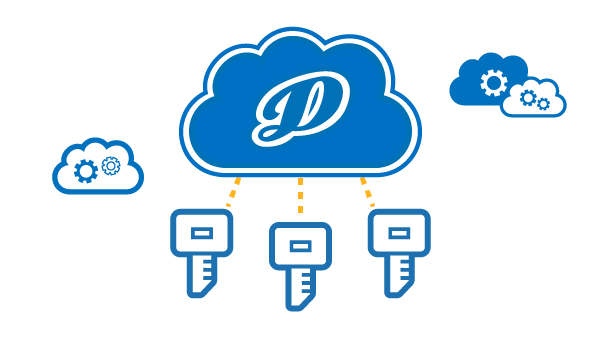 Introduction to Software Licensing In the Cloud
Cloud-based software licensing is the method used by modern software businesses to license out and distribute their software product to customers using cloud technology, while at the same time limiting access so that only the users that have purchased a valid license from them can use the software.
The main difference between cloud-based software license management and traditional licensing methods is that many, if not all, of the manual steps traditionally associated with licensing disappear – both for the vendor and the end user.
From the end customer perspective, cloud license management is so effective that, ideally, they don't even notice it. Put another way: the customer does not have to take any additional "licensing steps" in order to purchase, install and start using a software application. In effect, licensing becomes invisible to them.
In this blog we will compare the manual steps traditionally associated with licensing with modern software licensing in the cloud, to help you make an informed decision when considering a new licensing engine.
Cloud-based License Management Compared to Traditional Software Licensing
No licence keys are needed – less hassle for you and your customer
You might remember the old days when the process of acquiring a new software application went something like this:
1. You walk into a physical store and buy a physical package with a CD inside
2. You get home and unpack the product and insert the CD into your computer
3. While installing the application you are prompted to insert a licence key, to ensure you hold a valid copy of the product
4. You find the licence key on a piece of paper within the package and insert it
5. Your new software product has now been installed and activated (hence why some call it "software activation" instead of licensing)
This process has been simplified a little bit by using email to distribute the licence key to customers and of course physical CDs have been replaced with distributing the application over the web. However, the logic is the same – the customer needs a licence key.
When the software licensing process is taken to the cloud, the steps look something like this: (at least with 10Duke)
1. You go to the website of the product you want and buy it using a credit card or other instant payment method
2. You create a user account with your email address
3. After the payment has been completed, you download the software application from the vendor's website
4. You install the application on your computer
5. You log in to the application and you're good to go!
This is a major improvement in customer experience. Software licensing is no longer a step the customer has to complete. The customer no longer has to obtain, maintain and insert any licence keys – all they have to do is create a user account and log in. The licensing process will happen automatically and in the background.
Similarly, the software vendor no longer needs to issue or revoke licence keys, or even keep track of them, meaning a ton of time and effort is saved. The manual step for both the vendor and the customer has been removed. The big hassle that usually comes with managing large numbers of licence keys simply disappears for the vendor.
With cloud-based software license management, the email address of the customer in effect becomes the licence key. This makes licensing basically invisible for the end user.
This is what we call Identity-based licensing, the modern method of software licensing pioneered by 10Duke.
No licence dongles are needed – less hassle and faster product distribution
One method for software licensing used to be (and to some extent still is) the use of license dongles. They are electronic / hardware-based protection locks – basically USB sticks – introduced by software businesses to protect and prevent unauthorised usage and unwanted distribution of their high-value software applications.
The way it works is that the dongle's firmware is integrated with the software of the desktop application. This contains information used to authorise access, i.e. what and how the end user can use the software application. The only way to gain access to the application is by having the dongle physically present on the computer.
But just like with licence keys, someone needs to keep track of the dongles to issue and return them, which is a major problem for the software vendor, because physical devices need to be physically shipped. In addition, the dongle can break, it can have hardware compatibility issues, and worst of all, they can easily be transferred between people in the same company.
Overall, dongles are an ineffective way to prevent unauthorised access which results in revenue leakage. Shipping physical devices in order to give access to your product simply does not meet the demands of the hyper-connected world of the 2020s.
Today, customers expect to get access to a product immediately after purchase, and this is exactly what you can deliver with cloud-based software licensing. To learn more about the limitations of license dongles, click here to read our blog.
No license servers are needed – less maintenance for the vendor
Another improvement that comes from taking software licensing to the cloud, for both the end customer and the software vendor, is that there is no need to install and maintain any license servers, which traditionally has been the go-to method for software vendors to ensure that only the users that have a valid license can access the software.
A software license server can successfully manage permanent and shared licences. However, the increased capability that server licensing can offer is usually off-set by the added cost and complexity of maintaining an on-premises license server, not just for the software vendor, but also for the end user.
In order to manage licensing, on-premises license servers need to be physically deployed to a customer site. This immediately creates significant logistical problems in today's global digital markets. A license server is critical, and if it fails to function, any software that relies on an access token from the server will also fail to function.
When license servers were moved to the cloud by companies like 10Duke it revolutionised software licensing thanks to the capability to maintain license compliance by automatically checking and issuing licenses. While on-premises license servers were able to meet some needs of software publishers now this approach is quite outdated.
We might go as far as to saying that using an on-premises license server today instead of cloud-based licensing is a bit like using outdated physical audio formats like CDs after the explosion of music streaming services like Spotify and Apple music.
To learn more about the drawbacks of license servers check our blog here.
These are just some of the most evident benefits of taking your licensing process to the cloud. You can learn more about 10Duke's capabilities by checking out our cloud-based software licensing solution or by watching the video below.
To learn the basics of our technical concepts and how 10Duke works, you may want to start by reading our blog on the basics of 10Duke.
However, the benefits do not end here. Read on to learn more about how you can deliver more with 10Duke and cloud licensing.
Why Cloud-based Licensing Is the Way To Go
In the past costs, lack of technical know-how, and security were major challenges to the adoption of cloud based tools and some executives are still quite concerned about the perceived barriers and risks of cloud.
These perceived barriers mean that many businesses continue to struggle with embracing the cloud, often overlooking it as a way to cement their competitive advantage.
But today's digital enterprise is cloud-centric and if you're not thinking about cloud software licensing then you risk becoming obsolete because your competitors will be thinking about it.
Furthermore, the best tools for CRM and Ecommerce are already cloud-based. You'll need a licensing engine that can work with these tools if you want to create an automated, customer-driven business system that can perform and scale up with your business.
10Duke integrates seamlessly with CRM giants like Salesforce and HubSpot, but also with Ecommerce and payment providers like FastSpring, Digital River, Stripe and many more.
Software Licensing In the Cloud Leads to Superior Performance
Cloud-based licensing solutions do more than simply control access and permissions for software, they permit greater scalability and reduce operational costs. They also enable easier expansion of product portfolios by enabling software vendors to effortlessly create new product packages and push new features to both new and existing customers.
Cloud-based licensing models also take away the burden of running and maintaining infrastructure, replacing it with fast access to extra capacity to quickly innovate and expand your customer reach.
This speed translates to a competitive advantage, enabling you to gain new customers and launch new applications or features more easily. Your software licensing solution needs to match this flexibility and scalability.
Competitive advantage is your ability to perform in one or more ways that competitors either will not or cannot match. This means becoming more customer-centric, more innovative and more efficient, which in turn produces a higher customer lifetime value.
If sustainable superior performance is to be achieved, you need to offer products and services tailored to your best customers. You also need to improve operational efficiency, properly monitor and track customer usage patterns and identify new pricing models and market opportunities.
The real value, therefore, lies not just in the technology itself, but in the operational changes the cloud can enable.
Sure, cloud-based licensing will help increase revenue by preventing non-compliance. But it will also save you up to 70% on licence administration costs, as your team only needs to spend minimal time doing licence management manually.
When software licensing capabilities like activation, entitlement management and enforcement are automated as much as possible, it will free up your staff to focus on your core product.
All of this requires the right kind of software licensing capabilities.
Know Your Customers to Better Understand and Serve Them
Modern cloud-based solutions like 10Duke enable software businesses to better understand how their customers use their products.
Through 10Duke's identity-based approach to licensing, you automatically gain visibility to your customers, as they have to create a user account in order to use your product, which gives you a channel to talk to them directly.
What separates 10Duke from other licensing providers is that 10Duke is also a CIAM company. 
With 10Duke, you'll learn who your customers are, where they are located, and how they use your products. You can give them easier access to your product suite by giving them a smooth login flow to your applications via Single Sign-On or Identity Federation.
Learn more about our Customer Identity Management capabilities here.
In addition, 10Duke enables you to record every click and tap your customers make within your application. This data can then be queried in order to understand how your customers use your product – for example which features are they using (and not using!), how much time they spend using the application, etc.
Learn more about our application insights capabilities here.
All of these insights into your customers enable you to drive better product decisions, allowing you to deliver products that people want, at the right time, in the way they want to consume them.
With the right cloud-based tools, a modern software business can increase trial conversions, predict and prevent churn and identify additional selling opportunities based on customer usage data.
Contact us if you have more questions or schedule a discovery call with one of our software experts to find out how easy it is to move away from traditional software licensing solutions.
Are you a software developer looking to sell more? Learn more from our guides:
You might also be interested in:
10th May 2023
Dedicated licensing engine provides significant value and helps overcome complexity. In this blog we explain the complexity and how to solve it.
Every kid coming out of Harvard, every kid coming out of school now thinks he can be the next Mark Zuckerberg, and with these new technologies like cloud computing, he actually has a shot.