Working with 10Duke
18th November 2020
Why You Should Stop Selling Perpetual Licenses to Your Product
25th January 2021
License Servers – A Ticking Time Bomb For Your Software Business?
License Servers - A Ticking Time Bomb For Your Software Business?
Many software vendors already understand the role of software licensing in the successful growth of their business, and a license server, which checks, controls and measures software usage, is a vital component to scalable software sales. Modern licensing engines can leverage cloud-based technology to service today's sophisticated online digital environments, however, currently, many software license solutions are still primarily deployed as 'on-premises' software.
This article aims to highlight some of the pain points associated with this legacy approach to licensing.
What Is a License Server?
A software license server is a centralised computer application that services software access requests from end-client computers. The license server checks the number of copies of a software programme that an organisation is permitted to use and controls access through the provision (or denial) of 'access tokens' or 'keys'. For this reason, the term 'key server' is often used interchangeably with the term 'software license server'.
Do I Need a License Server?

For many ISVs, monitoring multiple software licenses represents a huge challenge. Manually deploying and maintaining a record of access tokens can quickly become a headache, and it is very easy to lose track of who can and should be using specific software applications. However, violating a software license agreement can carry criminal charges for your clients, not to mention the impact of unauthorised software usage on your bottom line.
ISVs that use a license server to centralise software license management not only achieve greater license compliance, but also, when done correctly, a license server can significantly reduce the cost of deploying and managing new software licenses.
How Do I Create a Licensing Server?
On-premises server licensing is most commonly provided by software publishers through the use of publisher-specific license servers or via a third-party licensing specialist. Typically this involves installing license server software on a host computer located within your organisation, and within your end-customers organisation for enterprise computing environments.
It is the job of the license server to control the number of permitted copies of a program that end-users of your software are entitled to run. License requests made from applications in a network are redirected to the license server, in order to grant or deny the request. The license server uses simple text files to check the licensing entitlements of an organisation, and if entitlements have been exceeded, the license server denies the request for a license.
What Are the Drawbacks of a License Server?
A software license server can successfully manage permanent and shared licenses, as well as provide diagnostic and reporting tools. However, the increased capability that server licensing can offer is usually off-set by the added cost and complexity of maintaining an on-premises license server, not just for you, the ISV, but also for your customers.
In order to manage licensing, on-premises license servers need to be physically deployed to a customer site. This immediately creates significant logistical problems in today's global digital markets. In most scenarios, a license server is as important as any other application on your network and if it fails to function, any software that relies on an access token from the server will also fail to function.
This could result in large sections of your clients work-force being unable to work and it will be down to you and your client's IT department to fix the problem – even where the licensing server is supplied by a third-party. Delays and disruptions cost money, and you, the software vendor, will end up having to provide support for a third-party component that isn't even yours, just so that people can use your software.
The average lifespan of a server is roughly five years, and the older your on-prem server is the more likely it is to fail. It could be just an individual component that needs replacing or maybe it will be the whole thing. Currently, rules regarding social distancing mean that it might simply not be possible to send an admin out to your client's location to help them resolve their server issues. But even without COVID, if your software business is based in New Zealand but one of your biggest clients is in France, providing support or replacing hardware is logistically difficult and may even turn out to be prohibitively expensive.
On-prem license server documentation is available to read online, and, as well as the extensive recommendations for server care, you might notice the long list of issues that are not supported by on-premises licensing specialists – such as hotfixes. Some legacy licensing providers even suggest installing license server software on a second server computer so that you can quickly switch over to a backup in the event of server failure. Ultimately this means that you now have two third party components to maintain. To get a feel for this just try googling "FlexLM server problems".
When new license files are added to a server, in order for the license files to be recognised, you will also have to restart or re-boot your on-premises license server, which generates unnecessary downtime for your clients.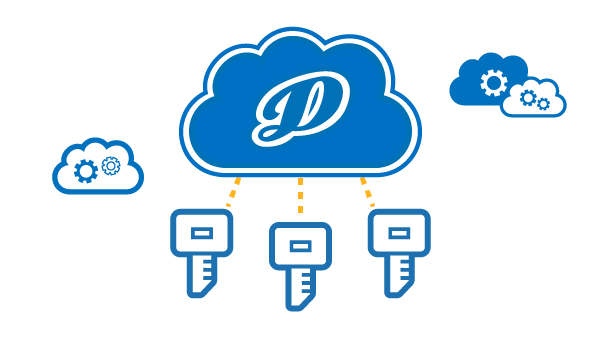 Cloud-based Software Licensing with 10Duke
The capability to maintain license compliance by automatically checking and issuing licenses revolutionised software licensing for ISVs and this happened when license servers were moved to the cloud by companies like 10Duke. While on-premises license servers were able to meet some needs of software publishers now this approach is quite outdated.
Using an on-premises license server today is a bit like using outdated physical audio formats like CDs after the explosion of music streaming services like Spotify and Apple music.
B2B software sales are hard and as a vendor, you need to use every advantage you can in today's hyper-connected, fast-paced business environments. The fastest-growing software companies recognise that their customers are now online and have taken a 'digital first' approach to interacting with them. 
The 10Duke licensing engine provides all of the functionality of an on-premises license server, (including managing dark sites or air gapped networks), combined with the convenience of online connectivity.
You get highly configurable, reliable and stable software licensing, with the added benefits of:
Fewer ticket requests for your clients IT department, therefore reducing costs and streamlining resources

Fewer ticket requests for you, the ISV by eliminating support calls about a component that isn't even yours

Fewer ticket requests for you, the ISV, by providing your customers with the ability to self-manage their own teams and licenses

Effortless onboarding of new clients anywhere in the world, without shipping a single item of physical hardware

Hassle-free, frictionless software licensing for your clients, with instant onboarding of new end-users

Real-time data about the usage of an application

Real-time license monitoring

Alerts for over and under-used licensing by tracking revenue recognition against software usage

Opening up your business to the needs of your customers and the industry

A centralised user-experience, even if you are selling more than one software product
Learn What Identity-based Software Licensing 
Conclusion

As an ISV, your licensing solution should open up new possibilities and opportunities for your software business – not provide you and your clients IT department with a long list of server care recommendations and extra demands.
3.6 billion of the 7.7 billion people in the world are now connected to the internet. This 'hyper-connectivity' poses a huge problem for on-premises license server solutions, however, it presents a huge opportunity for modern cloud-based solutions.
10Duke software licensing solutions provide you all of the advantages of using an on-premises license server, minus the hassle of shipping, installing and maintaining third-party hardware. Using a web-based interface, you can administer your license server from any platform, anywhere in the world, provided you have access to a web browser.
Adopting a 'digital first' approach means that you can meet your clients where they already are and offer flexible cloud-based software licensing, even in the most complicated or unlikely licensing scenarios – all covered by the same solution. 
As a provider of licensing engines to some of the fastest-growing B2B software businesses around the world, the 10Duke team is able to see the type of license models, product configurations and online e-commerce solutions that are being deployed by the best in the business. In a highly competitive, fast-paced business environment, you need to offer highly-competitive, robust, fast-paced digital licensing. And that's what the cloud-based licensing engine from 10Duke will help you deliver.
Whether you are in the research phase of your project, or already know down to the last detail what you want your license server to deliver, why not book a free demo with one of our licensing experts today. We will demonstrate what 10Duke software solutions can do for you, based on your unique licensing requirements.
Further reading
Learn more about 10Duke solutions here.
Learn more about Customer Identity and Access Management.
Are you a software developer looking to sell more? Learn more from our guides:
You might also be interested in:
10th May 2023
Dedicated licensing engine provides significant value and helps overcome complexity. In this blog we explain the complexity and how to solve it.
License server is an outdated legacy solution that is blocking software companies from scaling up. Learn why and how to overcome this licensing problem.