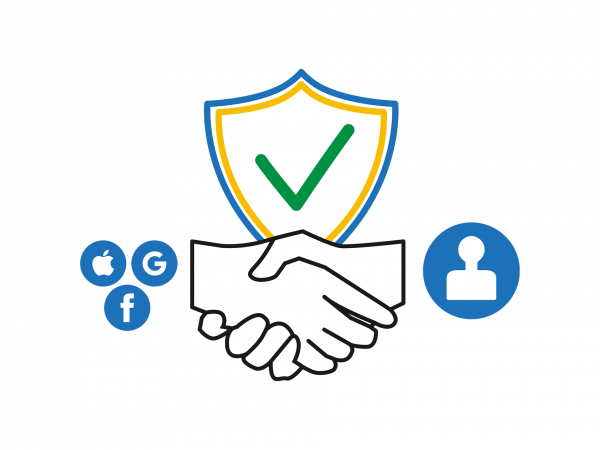 What is Identity Federation? Guide to Federated Identity
19th May 2020
Top 5 Reasons for Identity & Access Management Strategy
30th June 2020
What is Identity-based Licensing?
10Duke's Software Licensing and Identity Management solutions utilise the concept of identity-based licensing.
This is a method of controlling access to a digital product (or any protected resource), based on the authenticated identity of an individual.
It also enables you to retain flexibility in terms of licensing a product to the individual based on a number of constraints such as company, device, location and application type.
In this article we aim to explain why Identity-based licensing is the most modern way of licensing your product, managing your customer information and making your product easy to access for your customers. We'll also explain why ID-based licensing is superior to other more traditional licensing mechanisms.
Short on time? Watch the video below!
How Does Identity-based Licensing Work?
10Duke Enterprise does not use the concept of a license key in its design, but rather uses a JSON web token (JWT) as the primary mechanism for communicating with your client software or device.
10Duke Enteprise is API-based, so everything that follows in handled by 10Duke APIs that are delivered from the cloud.
Here's basically how Identity-based licensing works on a conceptual level:
User logs in to an application with their username and password and is authenticated, which is handled by 10Duke.
Based on the authenticated identity of the user, 10Duke checks what this user is authorized to access and do.
After the authorization decisions are made, the user is able to use and access whatever products or features they have licensed from you (but access to everything else can be denied).
All events, such as log-ins of the users and application and license usage, are stored and can then be queried in order to generate business insight.
For a more technical explanation, read our blog on the basics of how 10Duke works , or learn about the various components and APIs of 10Duke Enterprise on our documentation site.
Advantages of Identity-based Licensing
In a multi-app, multi-device world, identity-based licensing can offer you significant competitive advantages as compared with more traditional device-based licensing models.

Flexibility
With identity-based licensing, you have more flexibility in terms of the licensing terms under which you can make your products available to a customer.
You can license based on a variety of constraints, such as company, device, location or application type. You can also choose to license only certain features of your product, or create product bundles – or offer one subscription for your full product suite. It's all up to you.
You're also able to improve the ease and security with which your customer can access and interact with your products, and you can apply consistent license models across a range of products that you offer to your customers.
In terms of supported licensing models, identity-based licensing can be used to underpin both B2C and B2B models.
From trial SaaS subscriptions to site-based floating licenses, it can provide your business with the ability to choose the license model that is most suited to maximising your revenues, rather than forcing you to adapt to an inflexible model, ill-suited to your business.
And because as a cloud-native solution 10Duke Enterprise integrates with CRMs and e-commerce solutions, your new licensing solution will work seamlessy as part of your overall business system.

Scalability
Identity-based licensing by 10Duke also allows you to scale up your business by automating your licensing process and minimizing friction.
As a cloud-based licensing solution, 10Duke Enterprise reduces the manual steps needed for licensing for both you, the software vendor, and your customers.
There is no need to deliver and keep track of license keys or maintain on-premise license servers – you can enable your customers to purchase, install, and start using your software application quickly and easily.
Removing manual steps from the licensing process directly translates to happier customers and more time and effort saved for everyone.

Customer Identity
In addition, because Customer Identity is a built-in aspect of 10Duke Enterprise, you don't need to use a separate 3rd party solution to deliver and manage customer identities.
With identity-based licensing, you always know exactly who your customers are. All licensing decisions are tied into the identity of the user. This also means you'll always have a direct channel to your customer for upselling opportunities etc.
4 Reasons Why Identity-based Licensing is Superior
1. It can be used across app types
If you sell multiple applications and they are a mix of desktop, web-based, SaaS, mobile, mobile web and or other types of apps, each type is supported by identity-based licensing and you can use the same licensing engine to provide licensed access to them, either individually or as a bundle.


2. It can help to integrate your product suite
If you offer your customers more than one product, you can provide access to each one using the same set of authentication credentials. This makes your product set easier to access, maintains security and improves the customer experience. When each product is also controlled by the same licensing engine, the way in which your customer can access your products gets even better. Learn more about how centralized software licensing will also help you grow your revenues.


3. Usage data to learn how your products are being used
Understanding how, when, from what device, dwell time and similar usage data can help you to better understand how your customers use your products. In turn, this can help you to see any product issues, make product improvements and ensure the relevance of your products to your customer base.


4. Simplified license administration
Buying, activating or renewing licensing, particularly in a B2B context is normally a bit of a hassle. With identity-based licensing, purchases or renewals can be done online either for individuals or for teams, and activation is automatic. No more physical distribution of license keys, no more downtime. Instead tons of time, effort and costs saved.
Click here to learn more about 10Duke Enterprise, or watch the video about the basics below.
If you want a no-obligation product demo, book a call with us.
VIDEO: Learn the basics of the 10Duke Licensing
Are you a software developer looking to sell more? Learn more from our guides:
You might also be interested in:
10th May 2023
Dedicated licensing engine provides significant value and helps overcome complexity. In this blog we explain the complexity and how to solve it.
Identity-based licensing is a method by 10Duke of controlling access to a digital product based on the authenticated identity of an individual.