Unhappy With How You Currently Manage
Customer Licenses With Cryptlex?
Scalability an Issue?
Too much time spent on manually managing licenses or users?
Want to Offer Product Combos?
Need more flexibility for licensing product combinations or suites?
Need to Improve Customer Identity Management?
With 10Duke you also get a full-fledged Customer Identity and Access Management solution.
Want to Enable Customers to Self-manage?
Give your customer an easy-to-use tool for managing licenses and users.
Ready to take your software licensing to the enterprise-level?
10Duke Enterprise - Scalable and Flexible

Licensing Solution to Support Revenue Growth
Reduce your internal cost of license management and gain a single point of license management.

Improve how your customers can try and access your products using 10Duke's unique "Identity-based licensing" approach.

Learn how and when your customers are using your licenses and product features to help drive license sales.

Get an easy to integrate, market-leading solution built by experts.

Prevent revenue leakage by means of a real-time licensing and access control solution.
APIs Delivered From the Cloud
As a cloud-native solution, 10Duke reduces the manual steps needed for licensing for both you, the software vendor, and your customers.
No need to deliver and keep track of license keys or maintain on-premise license servers — you can enable your customers to purchase, install, and start using your software application quickly and easily.
Watch the video to learn the basics in 3 minutes.
Customer Success
Learn how companies around the world are leveraging the power of 10Duke
"10Duke are true experts in their field and have definitely allowed us to deliver more. The solution supports our fast growth and doesn't hold us back. 10Duke saved us huge amounts of development time."
"We wanted a solution that would scale with our business and really streamline our licensing process. 10Duke was the only solution that really met our needs in those respects."
"It's reliable, it's stable, it's going to operate 24/7, and it's also highly configurable. 10Duke have really opened up our business to quickly adapt to the needs of the customers."
Used by the Best Technology and Consumer Brands
Cloud-based & Automated
Swap manual license admin to cloud-based dynamic licensing which is easier for both your and your customers to use.
Deploy Your Preferred License Models
Moving from perpetual to subscription or need floating licenses, 10Duke supports all popular license models.
Customer Identity & SSO
Identity Management comes as a built in aspect of 10Duke Enterprise, enabling you to learn more about who actually uses your products.
Plug & Play Integrations
Connect to CRM and Ecommerce solutions to create a seamless automated system.
Served Globally from AWS
We support you wherever your customers may be, with a rock solid SLA.
Support For Both Online and Offline
Air-gapped customers? No problem, we also support offline scenarios.
Easy to Integrate
Comes with open source SDKs and a fully documented APIs, making it quick and easy for your team to integrate.
Schedule a Product Demo
Or ask questions by using the form below
What to expect in our product demo:
We will learn about your requirements, pain points and key business challenges
You will receive a product walkthrough, as we will explain our key concepts and show our online administration tools
We'll provide you live examples of 10Duke in action
Learn the basics of how you will work with 10Duke
You can ask us any questions you may have
What Makes 10Duke Enterprise Special?
Our Coverage
We are able to support your licensing needs across a range of software types and deployment models. Desktop, mobile, SaaS, APIs, VMs, devices can all be licensed with 10Duke.
License Model Support
In addition to the usual models like perpetual, subscription, floating and term, we also support use time, use count, pre-paid and post-paid license models.
Centralize Product Access via SSO and Federation
Make it simple for you customers to access your product suite through one central access point.
Identity-based Licensing
If you want to gain a better understanding of the human using your software, our identity-based licensing approach is unique in the market.
Cross-market Related Products to Your Existing Customer Base
Our identity-based licensing approach makes it easy to know what product a user already has access to and which ones they might be interested in as well.
Single Tenant Solution
Deployed individually for each customer, giving the ability to customize the solution, if necessary, to suit your specific requirements.
Licensing VMs
To our knowledge, we are the only vendor who can both track usage of your software on virtual machines and also prevent cloning or unauthorized usage.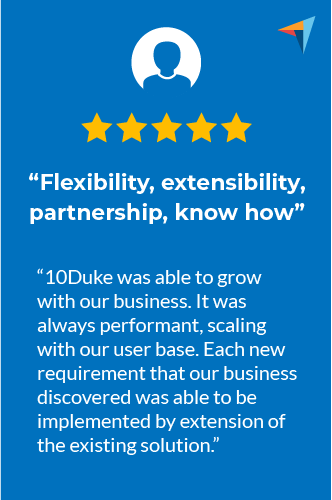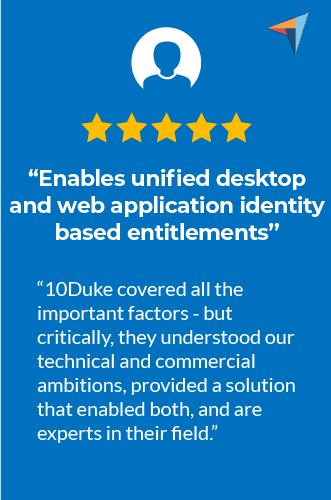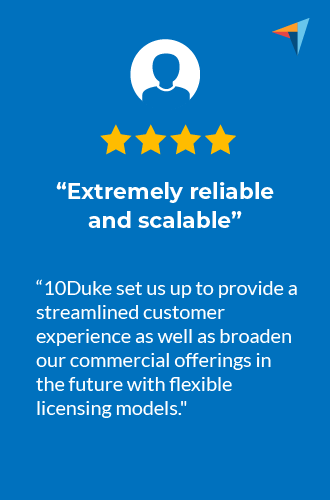 Source: 10Duke Capterra reviews.
Your One-Stop Shop for
Software Monetization
10Duke provides fast-growing software businesses with
Cloud-based Software Licensing
Customer Identity Management
 

Out-of-the-box Integrations with Ecommerce & CRM
License Usage Insights