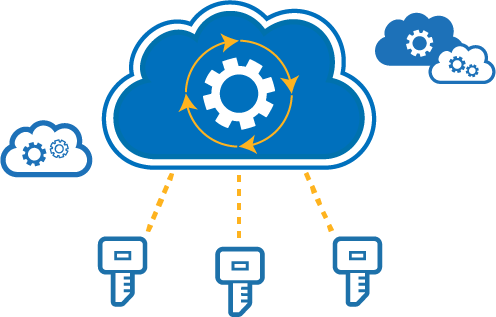 Entitlement management is a term that often comes up in relation to software licensing, access management or authorization. In this article we explain the definition of entitlement management, how it works and what are its benefits and best practices.
Introduction to Entitlement Management
Entitlement management can be defined as the act of administering access to software, systems, devices and other types of digital content.
Entitlement management systems enable you to grant, enforce, issue, revoke or resolve a user's access to said resources. Ideally it is done with a designated entitlement management solution (more on that in a second).
Depending on what type of entitlement management system is used, you might hear words like access rights, authorizations, permissions or privileges mentioned.
The technical terms may vary, but essentially all of these are just different names for the same thing and they all have the same goal: to make sure only authorized users have access.
However, there is one fundamental aspect that separates different entitlement management solutions from each other, and that is whether the solution is used to manage user access internally or externally.
Internal entitlement management typically refers to employee access within an organisation to various resources like software, systems or files. Other related terms you might hear are Identity and Access Management or Privileged Access Management.
External entitlement management is typically about controlling customer access to products like software applications. Related terms you often hear about are Software Licensing or Customer Identity and Access Management.
10Duke is a specialist in external entitlement management. In fact, we are the only company in the market that provides both a software licensing and a customer identity and access management solution in one. Learn more here.
How Does Entitlement Management Work?
In the context of software licensing, an entitlement management solution is a real-time system of managing how the rights to use licensed software are assigned.
For example, if you are a company selling software, a large enterprise might purchase 100 licenses from you for your software product.
A good software license entitlement management system ensures that your software product is only being used by the right people, in the right places, at the right time and therefore the terms of the software license agreement are not breached.
This allows you to monetize your software product more efficiently and is a great example of external entitlement management done well.
An example of internal entitlement management could be something like this: you are a company of 5000 employees across several business units, and you have employees of many levels ranging from entry-level to middle management to C-level.
With an entitlement management system your company's IT department is able to grant access rights based on the employees' role in the company or the business unit they work in.
This way you can ensure that junior employees don't have access to the same information that C-level employees do, which in turn increases the company's online security.
Benefits of Entitlement Management
An entitlement management system enables software providers and system administrators to automate time-consuming, manual tasks, as well as eliminate human-error by activating and provisioning entitlements to software applications from a single platform.
Typically the solution will utilise a centralised interface in order to centrally manage user access, therefore ensuring that access is managed in an efficient way.
While it is possible to use an ERP or CRM system to manage things like entitlements, these systems are generally built to manage hardware assets – and digital assets like software are very different.
You'll most likely have to customise the systems to do things like linking assets to entitlements, tracking devices, storing activations, tracking all license and entitlement lifecycle events and dealing with data and reporting.
This means high development and consulting costs in order to support the system in carrying out functions that it was not designed for.
For companies that have reached a certain size and number of employees / end customers, using an entitlement management solution will help their operational efficiency, both internally and externally.
Better Entitlement Management Leads to Better Software Monetization
In the modern online landscape, software publishers must be able to do two things at the same time:
Provide easy access to their product for their end users on a business model that makes sense for the vendor and the users

Control access tightly enough so that revenue isn't leaking out and software is being monetized efficiently
The best way to achieve this is to use a software entitlement management solution like 10Duke Enterprise.

10Duke Enterprise is the go-to solution for software monetization
With 10Duke Enterprise, every step of the license, entitlement, and software delivery process can easily be automated in a transparent and end-user friendly way.
A cloud-native solution, it was designed for fast-growing software vendors. Learn more about 10Duke Enterprise features here.
Flexibility
When used as part of a software monetization platform, an entitlement management system will also allow software developers to repackage software applications and offer new feature sets in order to adapt to market changes over time or serve new customers.
For example, the software vendor could introduce new business models, such as subscription, consumption-based, or feature-based.
For this to be possible, the entitlement solution has to be able to integrate seamlessly with E-commerce and CRM. 10Duke Enterprise supports this out-of-the-box.
Automation
With an entitlement management solution in place, time-consuming manual tasks can be automated for greater accuracy and reduced costs.
Entitlements do not need to be granted manually, instead end customers can simply sign up and create a user account, choose their preferred subscription tier, pay for it and they're good to go – with all user entitlements already in place exactly as you configured them.
You can also offer your customer organisations a self-service web portal where they can perform a variety of tasks themselves, for example to provision entitlements internally in a self-serve manner, cutting down on support tickets and improving customer satisfaction.
Product Insights
Modern entitlement solutions also continuously track and monitor the performance of each application to see which products or product features produce the best results.
Ultimately, this helps software developers understand how customers respond to different types of licensing or feature sets, which products bring the highest revenue, and which products, if any, should be eliminated.
10Duke is an entitlement management software vendor. Our main product 10Duke Enterprise is a software entitlement management solution designed primarily for software vendors to control access to desktop, web or mobile applications, digital content, devices or data sets.
VIDEO: Learn how our customer MAXON changed their whole sales process from serial numbers to online entitlements by using 10Duke Enterprise.
Are you a software developer looking to sell more? Learn more from our guides:
You might also be interested in:
10th May 2023
Dedicated licensing engine provides significant value and helps overcome complexity. In this blog we explain the complexity and how to solve it.