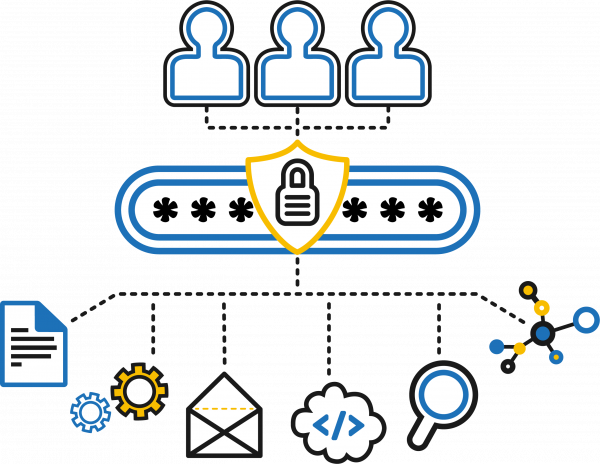 Why Is Privileged Access Management Important?
What is Privileged Access Management System?
Privileged Access Management (PAM) is a security-based solution that helps ensure that your data framework is secure by preventing privileged account abuse. This involves the use of a range of tools that allow you to retain control of critical assets in your intranet or infrastructure.
In practical terms, this is primarily accomplished by separating the individuals in question from their passwords and involves taking the access credential of admins, power users or otherwise 'privileged' accounts and storing them in a secure repository. Once these are isolated, those users are required to go through your PAM system to gain access to those credentials – adding an additional layer of security to your password protocols and helping to act as bulwark against social engineering or other intrusion methods.
In addition, once the user has accessed their credential through PAM, the system requires the materials to be 'checked in' again for the system to reset. This provides a point-by-point trail to help determine where issues arose and ensure maximum accountability when it matters most.
A PAM workflow allows you to fully validate the identity of individuals accessing your system – letting it carry out account authorization and authentication tasks which still remain separate from your existing environment.
These tools are employed through cloud technologies, allowing your users to access and supervise system use from anywhere in the world – creating a digital safe that can only be accessed by the right permissions, ensuring maximum control without sacrificing internal efficiency.
Who is Privileged Access Management for?
Privileged Access Management functionality is essential for businesses with large numbers of staff or those that have complex roles within an organisation. This makes it perfect for international organisations looking to allow clients and staff to access information from different locations, companies that hold secure or sensitive information that needs to be secured, or existing businesses looking to upgrade their infrastructure or improve their best practice.
Privilege Access Management solutions are deployed by sysadmins or designated power users, allowing for a degree of control that is often overlooked by many businesses.
In short, a A PAM workflow is best deployed in companies that need to know which users deployed a particular activity on their system, and key information on how it was used.
Benefits of a Privileged Access Management Framework
Key benefits of a Privileged Access Management framework include:
Efficiency: Many PAM solutions can deploy distinct change tickets that allow for quick validation or escalation to 'emergency' tickets, allowing for maximum control. This massively streamlines what is often an arduous, unsecure physical process that creates friction and risk for user and administrator alike.
Security: Privileged Access Management is first and foremost a security system that provides an additional layer of safety to accounts. Deploying a dedicated password vault enshrines a much-needed layer of control over your key admins and their approach to password policy, also allowing you to overview who accesses what information and when.
Usability: Using a PAM solution significantly cuts down on account administration work for administrators or account managers, helping to eliminate human error while allowing for increased security. This extends to end-users that can quickly access the system without putting your network at risk.
Implementation Process For PAM
A PAM workflow can be deployed as part of your infrastructure in the form of a dedicated suite of tools, letting you customise your access protocols as needed. Depending on your unique needs, your implementation process can involve the installation and setup of any of the following:
• Admin Multifactor Identification (MFA)
• End-to-End auditing and access logs
• Custom automated provisioning tools to grant ad-hoc access
• Dedicated Password vault to allow for secure storage
• Detailed access manager to allow for detailed tracking
• Other bespoke functionality such as session tracking, ticket issuance, application access control and time logging to allow for data capture and increased control on user entitlements
Once deployed, these can be adjusted as needed – allowing you to create a range of workflow options to allow for maximum flexibility and the ability to respond to growth or legal requirements.
Who uses Privileged Access Management in business?
In addition to security concerns, PAM allows you to create an authentication detail that provides a comprehensive look at who has attempted to access the system, how and when. This can help supply live updates about interactions but also allow you to control internal privileges and customer access. This enables you to extend your system functionality to external clients and bodies, ensuring full control over their access levels and preventing human error or external users in creating issues for your system.
This allows for a number of benefits, including:
Privilege Isolation: Users need to request privileges for their accounts, giving an additional layer of control to access. These then need to be approved by administrators, limiting access to sensitive tasks and information.
Protocol Enforcement: PAM systems can help act as soft barriers against breaches of practice, with accounts requiring to go through set – easy to navigate – workflows. This helps encourage best practice without sacrificing usability.
Data Capture: Any request for privileges adds new information to the system, detailing who requested it, when it was authorised, who by, and the tracking of key actions after the fact. This can help drive best practice and ensure any follow-on investigations are highly efficient.
High Flexibility: PAM workflows are highly customisable and can be as light-touch or as secure as required, allowing you a high degree of control over the process or the capacity to implement bespoke workflows as needed.
What next?
If you want to learn more about deploying an authentication solution that is right for your business, our team at 10Duke is here to help. With extensive experience operating in the ever-changing world of online security, we will work with you to understand your business needs.
Learn the Basics of 10Duke Software Licensing
Are you a software developer looking to sell more? Learn more from our guides:
You might also be interested in:
10th May 2023
Dedicated licensing engine provides significant value and helps overcome complexity. In this blog we explain the complexity and how to solve it.