Software license compliance means using the software only in accordance with the software developers' conditions of usage.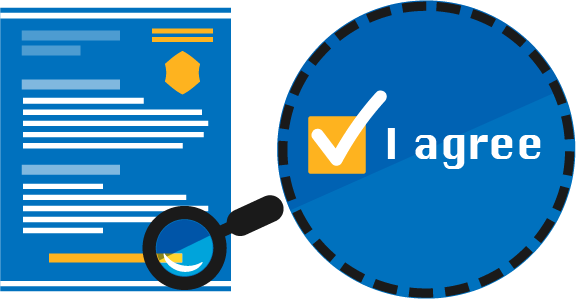 Software License Compliance Definition
A software license is a legal agreement, which governs the use and distribution of software. A licensing agreement is legally binding and software license compliance means only using software in accordance with the software developers' conditions of usage.
Some small scripts are frequently released without specifying a license. For example, the website Userscripts.org hosts more than 137,000 license free user scripts. With license-free software, you can back it up, compile it, run it, share it and even modify it as necessary, without permission from the copyright holder.
The same is not true for licensed software. In general, you purchase the right to use the software according to the terms of the software agreement, however, you do not own it and you are not permitted to modify or re-distribute it.
Usually, software ownership remains with the software developer and end-users license a copy for private usage. Proprietary ownership of both the original software and the software copies remains with the software developer (or software vendor) and the software is essentially 'rented' by the end-user. Software license compliance essentially means not breaching any of the conditions set out in the software license agreement associated with the purchase of software.
The terms of a software license usually dictate whether the copyright is retained by the software developer plus usage restrictions governing:
Software License Compliance Management
In enterprise environments, comparing the number of software installations and concurrent use with the number of software licenses purchased is a core component of software license compliance. End users should only be using software that they are legally entitled to use, which usually means only using what they have paid for.
An unauthorized installation of software is more commonly known as software piracy and this is the most publicised example of software license non-compliance. However, non-compliance can also be accidental, for example where there is a mistaken belief that having a license for an earlier version of the software will suffice or in large organisations where it becomes difficult to reconcile software deployed against permitted allowances. Mergers and acquisitions can also introduce software license compliance issues.
Software license compliance is a very prevalent business concern. Software audits will always uncover non-compliance and trigger 'true-up' charges and possibly fines. 56% of software audits result in additional charges to compensate for historical under-licensing and according to the IDC "true-up" charges exceed 1 million dollars in more than 20% of cases. Software license compliance is often regarded as a CIO issue, however, company directors are ultimately responsible for the commercial agreements associated with the purchase and use of software by their organisations.
Are you a software developer looking to sell more? Learn more from our guides:
You might also be interested in:
7th October 2022
License management is typically looked at simply as a cost of doing business. When done correctly, license management can be an engine of revenue growth, removing
[…]